10 ONE POUND MORGAN BARS AND 10 ONE OUNCE MORGAN ROUNDS OF .999 FINE COPPER
GUARANTEED BEST PRICE
GUARANTEED HIGHEST QUALITY
GUARANTEED FAST, FREE DELIVERY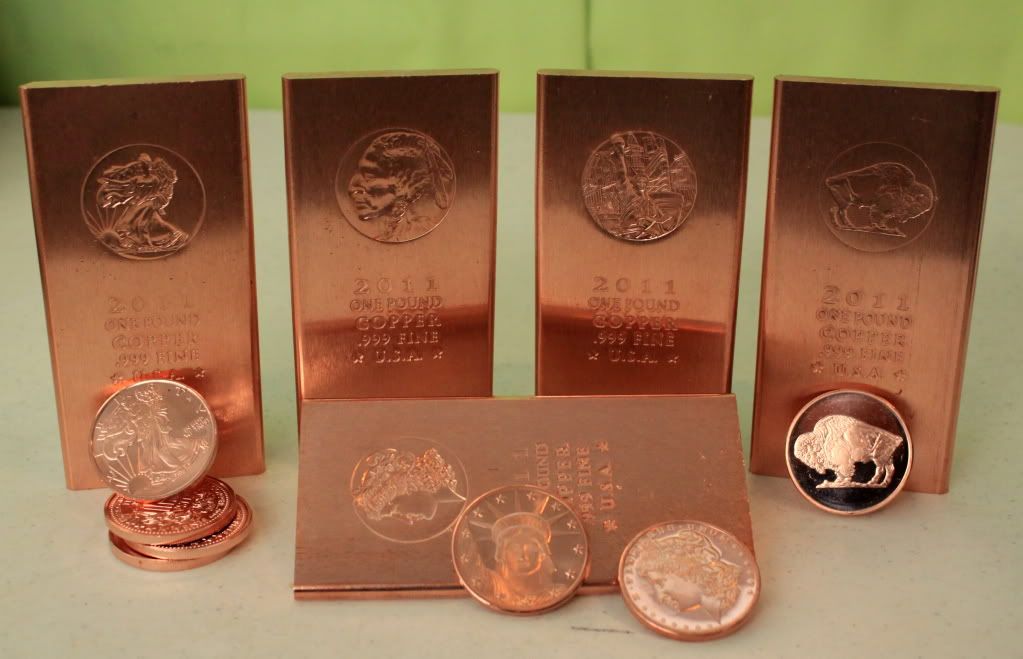 This sale is for:
10 brand new first 2012 quality USA .999 Fine Copper
MORGAN Bars
*Each weighing one full 16 ounce pound
AND
10 beautiful 2012 Copper Bullion MORGAN Rounds
*Each weighing one full ounce
A MORGAN SET
OUR BARS ARE 16 FULL OUNCE BARS. OUR ROUNDS ARE ONE FULL PURE OUNCE
Want yours now?
Others wait until they make a sale. Our copper is in stock now! WE STOCK EVERY STYLE THAT WE SELL FOR SAME DAY SHIPPING.

This is the absolute BEST, Lowest price online or anywhere else, but that's not all.... We have free shipping! Buy 1 or up to 100 ten bar/10 round lots and still pay $0.00 total shipping and handling.
NO DROP SHIPPING! Many sellers collect your money first and then send you order to a real seller.WE ARE THE REAL SELLER!
Most of the time, we ship the same day order is received. We ship super fast!
A note about bullion: While silver and gold are the most popular types of metals; platinum, palladium, rhodium and even such exotics as uranium and tritium, along with more commom metals like tin and lead are traded and invested on a daily basis...IN fact, many folks have recently gotten RICH from the recent price increases of...TIN! Of all the metals, copper is the most stable priced and along with silver and gold, is still considered real MONEY metal.
These bars make unique gifts that look more expensive than they really are. Buy to hold as an investment, to give as gifts or to use as high class bricks when the rioting starts. (OK, I am really not advising that you throw these)
BUY AS MANY COPPER BARS AND ROUNDS AS YOU CAN NOW
CHINA IS NO LONGER EXPORTING COPPER AND IS ABOUT TO START IMPORTING...
UPDATE...CHINA NOW HOLDS 37% OF THE WORLDS COPPER AND IS CONSIDERING COINING PURE COPPER INTO MONEY
THE SOONER YOU BUY COPPER, THE RICHER YOU MAY BECOME
It might sound to good to be true. Look at the true story of what happened to silver. Had you bought silver 10 years ago, you would be ten times richer today!
Now that you are a copper bar owner, have you considered how you will store, transport, handle and display your Copper Bullion bars? We sell the worlds thickest 8 MIL zip-lock bags made and we are THE ONLY retail seller of strong drawstring cloth bags. Both plastic and cloth bags come in sizes to accommodate from 1 bar to more copper bars than you can pick up. BEFORE YOU PAY, CHECKOUT OUR 8 MIL PLASTIC AND HEAVY CLOTH DRAWSTRING BAGS