2+ Pounds Polished Semi Precious Gemstones Rocks Minerals
This sale is for 2 POUND lots of beautiful, natural tumbled mini semi-precious rocks and stones.
2 pounds will spread about 1/2 inch thick over a 12" diameter area as shown below.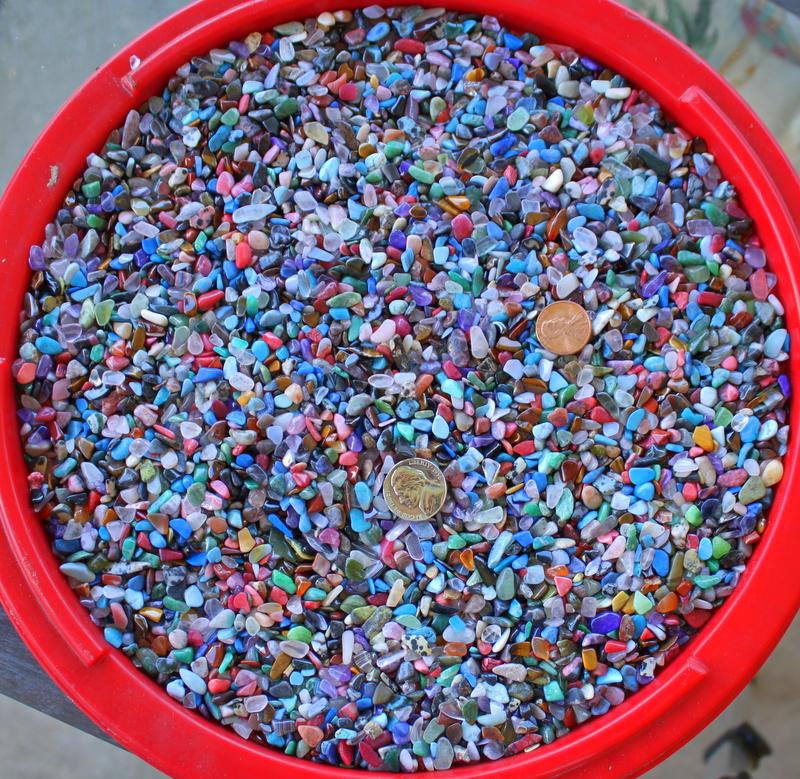 These little glass jars shown below are 2 inches tall and about .75 inches thick. Each is filled with 75 or more carats of beautiful natural semi precious jems and rocks. These are for close-up example only.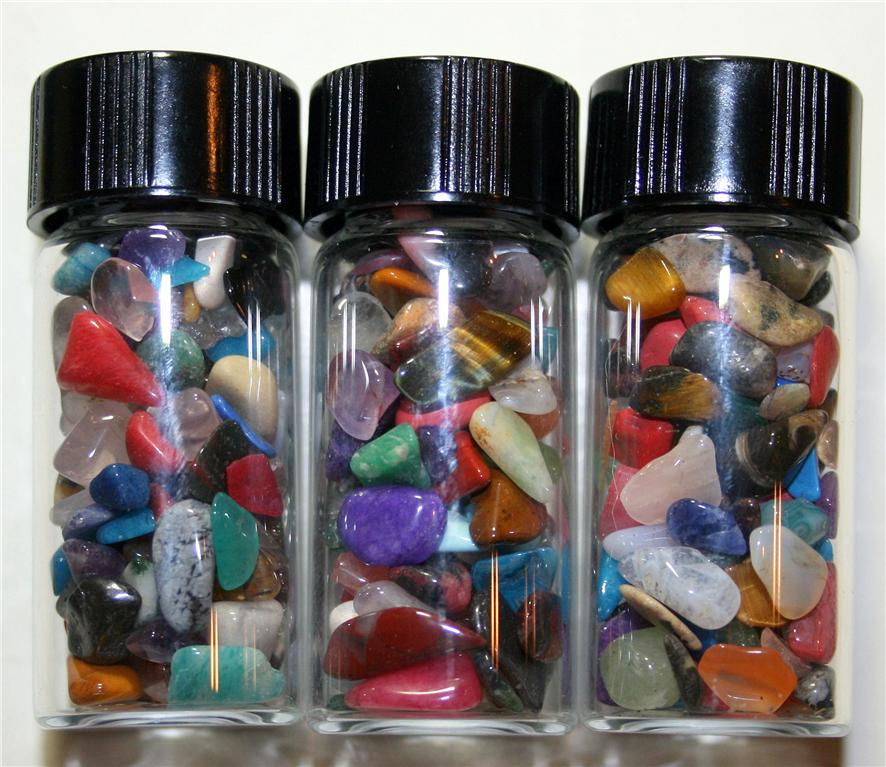 GLASS JARS NOT INCLUDED IN THIS SALE
I will try to make as much variety as possible. All were tumbled smooth over a 90+ day period using pecan shells. These are not colored rocks or glass, THESE ARE GENUINE.
Here is a list of some of the rocks we have identified in this lot. The more lots you order, the more variety you will find from the list below.
Amethyst

-- Semi-precious Gemstone in a mix of purple colors. February Birthstone. (India & Brazil)

Goldstone

- Tan colored stone with thousands of tiny sparkling copper crystals all over. (China)

Lapis Lazuli

- Popular blue stone sometimes occurring with areas of grey calcite or tiny sparkles of Pyrite. (Chile)

Labradorite

- Translucent green with flashing bursts of rainbow colors inside the gem. (Madagascar)

Peridot

- A very bright lime green gemstone. Usually has a transparent color. (Arizona)

Snowflake Obsidian

- Volcanic obsidian with grey ash snowflakes imbedded in the gem. (Utah)

Malachite

- Dark green gem with swirls and bands of light green. Heavy gemstone. (Zaire)

Crystal Quartz

- Colorless quartz that can look like glass because of its wonderful clarity. (Brazil)

Peach Moonstone

- Unusual form of Moonstone in a mix of light to dark peachy or tan shades. (India)

White Moonstone

- Famous June birthstone, Moonstone has a creamy white color in translucent stone. (India)

Rainbow Moonstone

- White moonstone with small flashes of blue and other colors as the stone moves. (India)

Garnet

- Dark transparent red. Garnet comes in other colors, but red is the most common. (India)

Yellow Calcite

- Beautiful translucent yellow color. Looks like a lemon drop candy. (Mexico)

Dalmation Jasper

- White to grey quartzite with multiple spots of black. (Mexico)

Red Jasper

- Brick red color Jasper that sometimes contains white creamy lines. (South Africa)

Blue Aventurine

- Dark to medium translucent blue. Member of the quartz family. (India)

Blue Lace Agate

- Popular form of agate with a light blue color containing lacy, wavy bands. (Namibia)

Iolite

- Purple-blue gemstone that sometimes displays a color changing quality when rotated in the light. (India)

Unakite

- Mix of pink Feldspar and green Epidote. Named for the Unaka Indians of the Appalachian Mtns. (Virginia)

Fluorite

- Heavy gemstone that comes in a mix of color from blue, purple, light green or bi-colors. (China)

Leopardskin

- Named for the big cat, Leopardskin has black or red-ringed spots on a cream background. (Mexico)

Rose Quartz

- Very popular quartz in a translucent pink color. Often used to sybmolize love. (Brazil)

Gold Tiger Eye

- Famous stone known for its shimmering cat's eye effect when rotated in the light. (South Africa)

Red Tiger Eye

- Red version of Tiger Eye. Very stunning cut and polished into jewelry. (South Africa)

Magnesite

- Snow white color stone with light grey spider web like lines. (Zimbabwe)

Blue Quartz

- Very light color of blue quartz. Looks similar to light Aquamarine. (India)

Green Aventurine

- A Version of Aventurine in dark to medium green with tiny Mica inclusions in some gems. (India)

Orange Aventurine

- Dark to medium translucent orange. Member of the quartz family. (India)

Mahogany Obsidian

- Mix of maroon and black obsidian. Created by volcano. (Mexico)

Onyx

- Jet black in color. Onyx is a member of the agate family. (Africa)

Picture Jasper

- Tan jasper with unusual scenic lines of brown to black or with brown sections. (Idaho)

Snow Quartz

- Just like the name suggests, this form of quartz is has a bright snow-white color. (California)

Serpentine

- Named for the mystical beast, Serpentine has a mix of unusual green spots on white. (Utah)
Other Gem Varieties are Possible!
Shipping is $5.00 for 1 lot OR AS MANY AS YOU BUY IN ONE PURCHASE.
We have about 40 pounds left, WITH NO MORE coming.
For quick assistance please call us Toll Free at:
(855) 418-7580