2011 American Silver Eagles Lot of 10 Very Limited One Troy Oz Silver Each
2011 American Silver Eagles Lot of 10 Very Limited One Troy Oz Silver Each
2011 American Silver Eagles Lot of 10 Very Limited One Troy Oz Silver Each
Rating:
(

1

product review )
Sorry but this item is currently unavailable.
Please check back at a later stage.
Product Description
Lot of 10 2011 American Silver Eagles
These 2011 American Silver Eagles are direct from US Mint Tubes of 20 pieces each.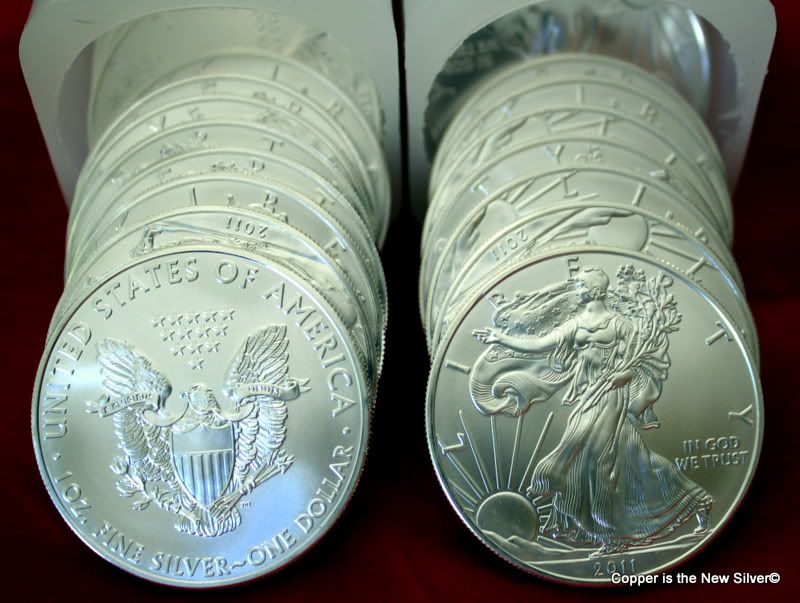 We are selling a total of 100 one troy ounce coins in lots of 10. Buy 2 lots and get the original US Mint tube that they came in. As we do not have software to update the silver prices, buying these now could be a great investment. With the holidays comming, these will not last long and price has always gone UP on these fine silver eagles. Get them NOW if you can. Price includes FREE USPS shipping with signature delivery.
American Silver Eagle Coins Were Authorized by Congress in 1985 and first minted in 1986.

American Silver Eagle Coins are .999 fine silver, the purest silver coins ever issued by the United States.

Each American Eagle coin contains a full troy ounce of silver which is 31.1 gram plus Copper.

Copper is added to increase the coin's durability to help resist scratching and marring.

Often considered one of the most beautiful coins ever minted.

The Silver Eagle's design is based on A.A. Weinman's Walking Liberty, introduced on the 1917 silver half-dollar.

An eagle and shield, displaying American strength and pride, backs this moving scene of freedom.

Content: Silver-0.999 Troy Ounce 31.072 Grams*.

Weight: 1.000 Troy Ounces 31.103 Grams.

Diameter: 1.598" 40.60mm.

Thickness: 0.117" 2.98mm.
Find Similar Products by Category
Customers Who Viewed This Product Also Viewed