This lot of 100 or more OLD USA currency and coins is one of the best deals we have been able to pass on in several years. This coin lot will sell out fast because of the superior quality honest description and incredible value.
The original owners were in the vending business for about 50 years and they had the habit of pulling all coins that were not current circulating coins including all solid copper and silver coins.
No one has done any cherry picking and I absolutely GUARANTEE that these cents are a full range of dates and mints from the 1880s to 1959 with very rarely an older Memorial copper cent. As I shake out the pound for you, I will make sure that there are at least 5 Indian Head and at least some Wheats from every decade and of course there will be WWII steels.
I will even go as far as to make sure that a 1909 Wheat is in every pound...Who else would do that for you?
One pound of cents is nearly 3 rolls. Hopefully, these coins will wind up in a collection. There are just WAY too many Wheat rolls that always have an Indian on 1 end but the Feedback shows the other 49 coins were common..
Here is the situation. You will NOT get all that you see in this picture,
but you definatly will get all that is listed and described

Each 100 or more coin lots will have the minimum of the following bills and coins.
ONE $5 Red Seal Note, ONE $2 Red Seal Note ONE $1 Silver Certificate
One full 1/2 pound of OLD US copper cents. About 75 to 80 coins.

I hope you are still here because there are lots more coins. To make each bag contain over 100 coins, I am tossing in from the same vending machine lot 3 OLD Silver Dimes, mostly Mercury and 25 OLD Nickles with an even mix of Victory, Buffalo and WWII Silver nickles.

PLUS the following silver coins:

One BU Silver Dollar, One Silver Half dollar and TWO Silver Quarters
If you search our listings, you will see that we are the largest copper bullion seller. Last year, the biggest copper mill in the US (Hussey Copper) went Bankrupt and we bought several thousand pounds of .999 fine bullion quality copper. This auction will include a ONE ounce .999 fine copper bullion ingot. If you ask, we will make it a 1 ounce round. We have thousands of each style.

IMPORTANT: This ingot is a full ounce. Many sellers offer 1 GRAM ingots that are so tiny you need tweezers to handle.

Finally, as a gift to all of you diligent coin searchers, (I never had the patience or eye strength) I am including the following very neat tool.
We bought a couple of these at the trade show and after trying them for over 6 months, we were so delighted with the function and quality that we bought a good size lot to sell or give to our customers.

THIS IS THE SAME EXACT TOOL THAT SELLS FOR $59.. RIGHT HERE ON LINE. That is way too high! (we sell 5 for less than that!)
This tool is a real 60 x loupe sized magnifier that works just like a loupe only with much finer detail than a manual loupe.
This finely crafted tool comes with it's own LED light so you can use in dimly lit places. It also comes with second Ultraviolet light for detecting colored diamonds or fake currency, etc.
Seeing the super fine details in diamonds, coins, circuit boards, the list goes on, will save and make you MONEY.
Fact: Most pawn and jewelry stores deliberately DO NOT use over a 20x magnification because they do not want the customer to see the tiny flaws revealed by this awesome tool.
Comes with batteries and a custom fitted storage and carrying case.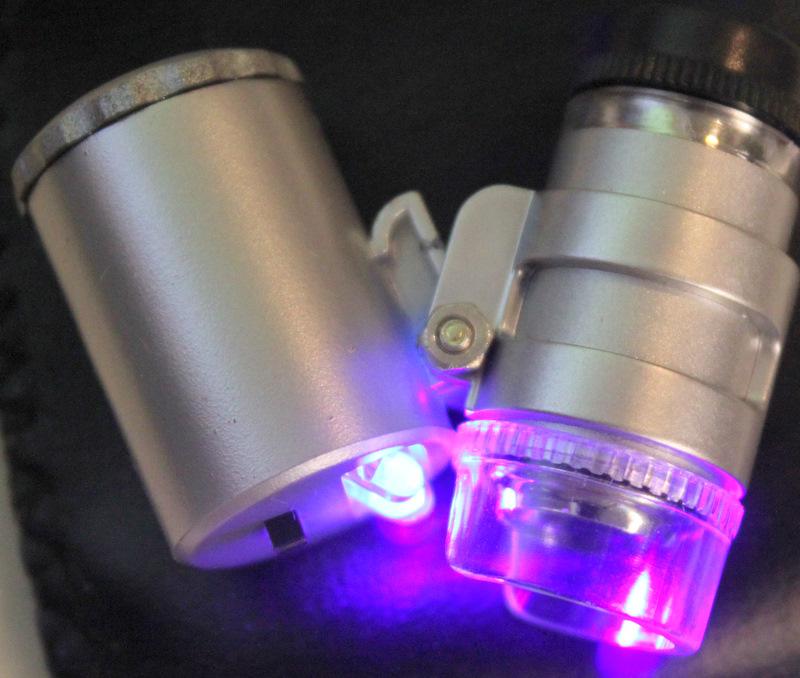 Of course this 60X magnifier loupe is made in China but we are USA distributors and offer a 14 day money back guarantee and a 1 year replacement warranty.
To sum it up, you will get 1/2 pound (about 75) Old copper cents including: an Indian, a 1909 Wheat, all decades and WWII steels. You get 3 silver dimes scooped from a sack, 30 old nickles as described above, a fine 1 Oz. Copper Bullion Ingot and the 60x powered magnifying loupe.
Free Priority US mail is included in price. Buy today, enjoy in 2 or 3 days from now.
Bonus:
For every additional lot you get NOW, I will toss in ONE $1 US Silver Certificate.
Buy 5-9 lots and get 5 Silver certificates and a GEM PROOF Silver Half Dollar.
Buy 10 lots and get 10 Silver certificates 2 GEM PROOF Silver Halves and a SILVER DOLLAR.
While there are many very fine coin dealers and several shifty, slimy coin snakes here on the internet, we are neither. We are a small family business that spends lots of time on the road, mostly here in Florida buying Estate Lots, Bankruptcy Liquidations, Appraisal Referrals, Trade Shows, even coin shows and auctions.
14 day money back guarantee on all items